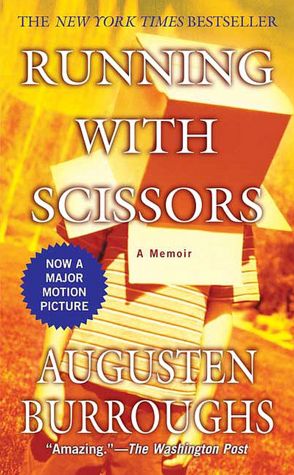 I honestly have no idea why it took me so long to start reading autobiographies. Each one I've read lately is more and more fun to get through, and
Running with Scissors
was no exception. This memoir gets
4 out of 5 stars
for being just plain fun. Burroughs really is one of the funniest authors I've read lately.
From the publisher:
Running with Scissors
is the true story of a boy whose mother (a poet with delusions of Anne Sexton) gave him away to be raised by her unorthodox psychiatrist who bore a striking resemblance to Santa Claus. So, at the age of twelve, Burroughs found himself amidst Victorian squalor living with the doctor's bizarre family, and befriending a pedophile who resided in the backyard shed. The story of an outlaw childhood where rules were unheard of, and the Christmas tree stayed up all year round, where Valium was consumed like candy, and if things got dull an electroshock therapy machine could provide entertainment. The funny, harrowing and bestselling account of an ordinary boy's survival under the most extraordinary circumstances.
My thoughts:
Truly one of the funnier stories I've read, especially considering this is a true story. I have to give Burroughs credit, growing up in such a crazy, mixed up household after being given away by his psychotic mother. Sometimes I couldn't even believe that this stuff actually happened, but he tells it in such a manner that I can't help but believe him. When I first started hearing about Augusten Burroughs, I was kind of shocked that he had so many autobiographies published. Who could honestly have that many books written about his life?? Clearly, this man can, and I'm likely going to pick up at least one or two more of his books. This was well written and very moving; hardly a page went by where I wasn't laughing along with him, or feeling sad or sorry for something that happened in the story. I would have liked a little more chronology or an easier to follow story, but at the same time I think it just adds perspective to the story.. Burroughs's life was helter-skelter, why shouldn't his biography be the same?
- Justin