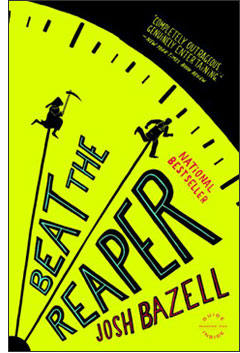 This was quite a curveball of a book, and while I'm a little confused and don't know what to think of it, I'm pretty sure I enjoyed it. I do advise against reading it before or after a big meal, however.
Okay, so this story is basically about how the past can come back to bite you if you aren't careful. Or, if you have a lot of baggage from your 'previous life'. In this story, Doctor Peter Brown (real name Pietro Brnwa) is forcefully reminded of his mafioso past after seeing an old acquaintance in the hospital he works in, Manhattan Catholic. The chapters flipflop between the past and the present, making for a great contrast between younger and older versions of Pietro. He is an immensely likable character, even in his prior life as a hitman. You just can't help but feel for the young man, trying to learn more about his grandparents, and just trying to be a part of the Locano family.
In my opinion, the biggest downfall of this book was the fact that it got very gory, especially toward the end (mostly with the medical stuff, but still gross). This book is not for the faint of heart, or the easily nauseated. I am giving you this warning because I was caught off guard by the sudden gore, and probably won't be eating tonight because of it.
This book was a vast difference from the classics and fantasy books that I've been reading lately, and I am very pleased with my choice. Like I said, however, be aware that this book is not meant for the squeamish and easily nauseated readers.